With the Festive season upon us and staff winding down for the school holidays with plans for local vacations and staycations, our team are ramping up the for holidays!
2020 has been such a challenging year for many businesses and we are lending a helping hand to those who are struggling to remain open this Christmas. So if you are keen to remain open especially in the online space where the amount of visitor traffic has increased substantially over these last few months – then read on…. as we can help!
With the significant increase in online traffic, some businesses are struggling to keep apace to respond in a timely manner to the number of enquiries they are now receiving. We are helping many businesses to respond to their customers in the moment they arrive online, on their website or Facebook page, with a team of real people, professionally trained in your industry. We have been working in the online space for the last 6 years and we know the commonly asked questions and how to gain the trust of the online visitor to either encourage them to book directly in the moment they are motivated to buy or at least to get their contact details for your team to follow up and convert.
How do we know what to say? As a part of our Chat2 Concierge service, we create a knowledge base specific for your business. Apart from having the responses to questions that we see all the time, we also review your website to add those that are also likely to get asked. Your staff can review and add to this knowledge base before they go on holidays!
Once the knowledge base is approved, it is uploaded into our software where our team utilising the AI interface can draw upon the knowledge base to answer questions fast (on average 19 seconds), we personalise and edit the responses to ensure they are relevant for the questions being asked, we hold a genuine warm friendly conversation online with your customers (yes, don't expect every chat to be done and dusted in 2 minutes, that doesn't work on this channel), we obtain trust to either get the customer to buy in the moment or we obtain the contact details for you to follow up as well as adding to your own database.
We can answer general enquiries, or even some specifics depending on the quality of the knowledge base, we can take bookings, make bookings online, we can even respond to clients on emails as an additional service during the holiday season to encourage more sales and ease the burden of your own staff upon returning to work. Our aim is to promote and encourage purchases in the moment the customer is online. Or we obtain quality and genuine leads to push through to your skeleton staff to easily finalise the sale as we have done most of the qualification work.
Just by being there in the moment, consistent and responding fast, you are more likely to attract more enquiries than ever before. To keep your business growing and sales coming through during the festive season while most of your team are taking a well-earned break.
We are already saving our clients so much cost in ongoing labour costs just by being there and able to easily manage and answer online enquiries around those constant and repetitive questions knowledgeably. This infographic shows these savings for five of our clients.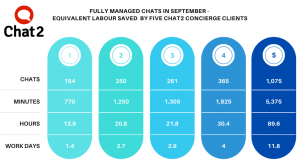 As we are answering conversations for others in your industry and our operators can be managing up to 8 -9 conversations simultaneously we are able to take advantage of economies of scale and offer this service at an exceptional cost.
You can use our service just for the festive season (there is no contract) or you can choose to use us just for outside of business hours or of course every month 24/7, it's your choice! Only until the end of November – you can accept an offer to start in December for only $30 for the first month. The knowledge base creation is normally $199 to create, though we will also include this and our Google Analytics integration for 12 months (normally a monthly fee) though this special ends Sunday midnight.
This offer will be available at this link for the next 3 days for Black Friday sales – just go to https://chat2.com/cash_in_online_this_christmas/