Personalisation is the number one driver of Customer Experience or CX, and in 2022 how well you plan and execute your persona across all distribution channels to reach the new hybrid consumers, has become what matters most.
In the online space, achieving personalisation is not easy and can seem to evolve constantly. We have seen websites include photos of staff and contact us pages to generate a more personalised presence in the digital space, but results are largely attached to individual customers ability to navigate and find information for themselves. Websites acting as a digital brochure for after hours access, so to speak. We know that in a customer service equation, just handing potential customers a brochure, does not achieve ideal outcomes.
In our stores and offices, we have employees whose role is simply to greet and assist our visitors in person, via email and over the phone, because we recognise how vital a customer service presence is to our business success. Online chat saw our digital brands start evolving to achieve a more personalised interactive type of service, but the AI based automated responses often led to online visitor frustration.
The missing link is the personalisation of the digital service-scape.  Over the past decade we have seen shoppers choosing either traditional or online services depending upon generation, leading most of us to assume that an evolution between brick and mortar and the digital space would happen quite slowly accordingly.
"Digitalism has had several eras. In the first era of digitalism in the 1990s, we digitized information. The second era was in the mid-2000s, where we digitized social relations. Now, we are going into the third era of digital transformation, where we will be digitizing experiences."
—Dr, Behice Ilhan, SENIOR TREND STRATEGIST & BRAND FUTURIST AT MINTEL
Gen X, Baby Boomers and older customer groups had been hesitant to commit to including online with their traditional tried and true methods. Fear of having a profile with linked credit details online is a large barrier of resistance for these generations.  Younger Gen X's through to Millennials shop online and instore to meet their convenience needs, effectively surfing the best of both worlds. While the youngest generations and generations to come just assume everything is purchased online and will be 100% fluid in the digital space, only visiting in store to purchase if there is a reason such as a discovery moment benefit, with face-to-face consulting conducted through mobile devices and computers.
Digital evolution was attached to large industry players and government investment driving the change and the rate of adoption across consumers at a steady pace, matched to economic growth. Then in 2019 the world suddenly had to get online fast to continue to operate safely. The effect termed 'The Quickening' has seen the evolution timeline which had been predicted previously to be mainly determined by the generations, suddenly change because of this mass global learning. Schools and businesses along with government departments have effectively helped society adapt as quickly as possible to this transition. A better understanding of technology, reducing the fear factors has meant generations have largely changed their perspective around the safety of the online environment and through practise and regular use, our customers of many varied demographics have now evolved across the board, into hybrid shoppers.
Image: Meta 2021  
"Omnichannel is no longer just about having many different channels; it's really about having an interconnected experience across all channels. Now, the shift is to offer the same products and quality online as in-store. Online web and app experiences are starting to merge with offline to offer the same selection, promotions and experience."
—Methit Mukdasiri, HEAD OF INDUSTRY FOR RETAIL IN THAILAND AT META
Customers are not just looking for safety, simplicity, and ease of purchase, but also the psychological satisfaction of a human connection as they explore and discover. They want to deal with brands who show they care and have individual solutions to their specific needs and problems. Remembering it's not what you do but how you do it that matters most. (KPMG)
But what does this mean for business? Well let's think about how you yourself have changed the way that you purchase over these last couple of years.
Do you like to have the option to live chat with a person when you are researching purchases? Do you contact a company online now with an issue or question? Do you expect to receive an instant reply or to be able to source this information yourself at any time on your phone? Do you price check online before deciding to purchase? Find it easier to send presents for family direct to them by shopping online?
If you answered yes to any or all these questions, then you can also assume that your customers are behaving in similar ways too. We have all adjusted to an almost paperless environment because the ease of using the digital space and necessity due to the pandemic.
Did You Know?
66% of shoppers surveyed across all markets conduct research online before going in-store- Meta
84% of shoppers made a purchase in-store after finding or discovering the item on social media.- Meta
Businesses use both their website and social media channels 80% of the time to reach customers- Hubspot
97% of global consumers say customer service is important in their choice of a brand- Customer Think
40% of CEOs said their CIO or tech leader will be the key driver of business strategy—more than the CFO, COO, and CMO combined. – Deloittes
More than half of growing SMBs accelerated investments in sales and customer service technology over the past year. (SalesForce) Which is a trend that is predicted to continue rising, with an annual investment made by brands to continually improve connection through the transitions, to create a seamless digital online and in-store or office customer service experience that is designed to cater to the new era of hybrid shoppers.
Image: SalesForce 2021
As an alternative having online chat on your website and across social media platforms forms a foundational solution for your brands online personalisation. Your visitors are greeted as warmly online as they are in-store. 'Chatters' spend on average 60% more per transaction than 'non-chatters'. (Invesp) There is also an 10.3% increase in overall customers satisfaction which can be directly attributed to online chat solutions offering personalisation online with over 20 chat operators to service client's needs. (Comm100)
However, most businesses would struggle to offer this level of service 24 hours a day 7 days a week with only their internal staff and would require regular AI and automated response assistance.
As we mentioned earlier in the article, this can lead to less than ideal outcomes like higher expense, double handling of information and client frustration at automated responses. 44% of online consumers say that having questions answered by a live person during an online purchase is one of the most important features a website can offer. (Source: Inc.)
An online concierge team of professionally trained online chat operators who are there in-the-moment can assist to create the seamless online and in-store outcomes desired.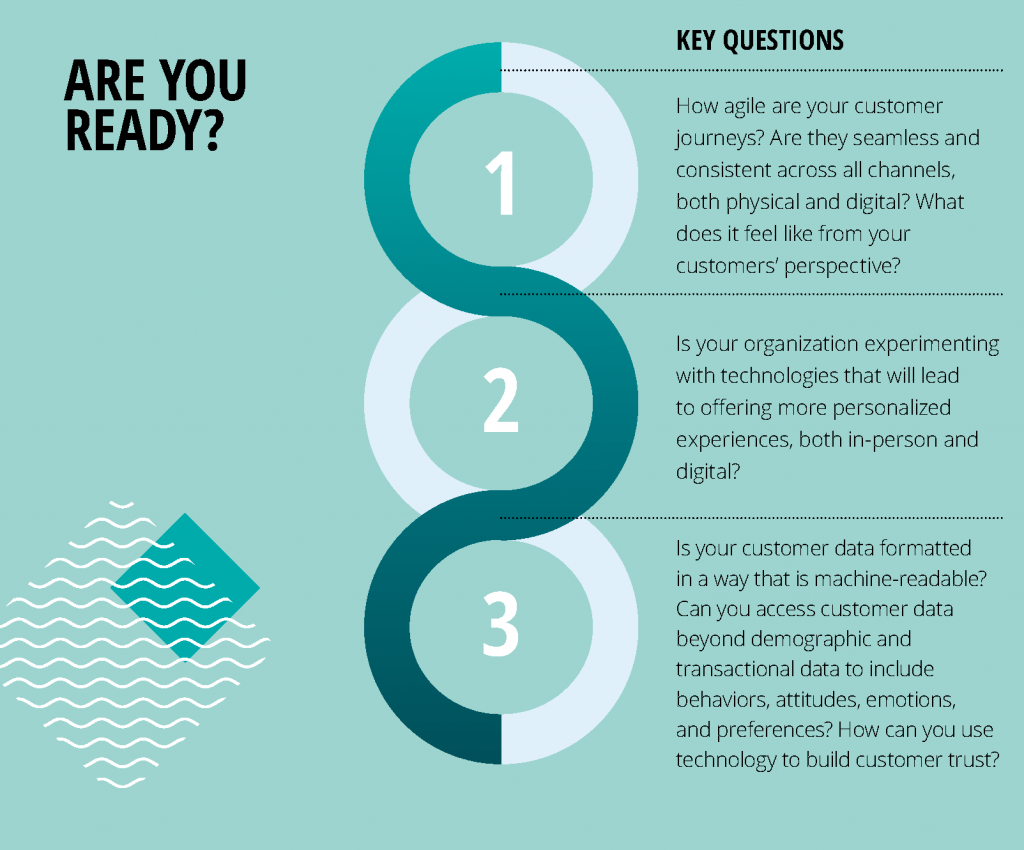 Image: Deloitte's Tech Trends 2021
The goal in 2022 for all businesses is to adapt with an emphasis on personalisation in the online space. Delivering an online customer experience that satisfies customers' evolving expectations and integrates seamlessly into the in-store service delivery processes. Interactive discovery experiences in-store and online personalised customer experience alternative capabilities are the two new areas of primary focus for companies in Hybrid shopper planning and to achieve optimised customer experience results.
Access our FREE library collection of Customer Experience Results Reports for 2021 
Get started on the personalisation of your website and social media channels with our all-inclusive ADAPT Package.
Take advantage of the savings with 50% OFF + FREE Set-up. Our all-inclusive ADAPT 6-month Package is designed to boost sales and elevate your #online customer service. #GetStarted in 2022!
MORE Enquiries – EASY Conversion – SAVE Time – MORE Sales
💥 50% OFF for 6-months
💥 includes 200 chats per month
💥 FREE Set-up including Knowledge Base (save $199)
💬 Chat2 Software 💬 Concierge Service 24/7
💬 Website and Facebook integration
💬 Dedicated Account Manager
💬 ROI Reporting & Data
To learn more visit our ADAPT Page