Turning browsers
into buyers,
one chat at a time
Chat2 is the best way to chat, share, collaborate and help visitors in real time.

Sign up for your Free 30-day trial
Full Desktop notifications
Desktop speech recognition
Chat2 is the Easiest way to Increase Client Conversion and Revenues
Chat2 allows you to chat to visitors on your website.
Chat2 is designed to increase customer satisfaction and online sales.
It helps grow your customer base and has even been shown to increase average order value.
Whether your website is big or small
your customers will love Chat2.

We're here for you
Chat2 is available 24 hours per day to boost your business. With Chat2 you can expect an increase conversions and customer satisfaction from day 1.

Chatting 2 clients makes them happy
Chat2 has the highest satisfaction levels for any customer service channel, with 73%, compared
with 59% for email and 43% for phone. Chat2 combines the fast responsive of phone
and the simplicity of email, while freeing us from pain of waiting and hold music.
Customers say they are more likely to buy after using chat and 79% of those who
bought said they did so because they got their questions answered quickly.
Operators can Chat2 multiple happy customers simultaneously!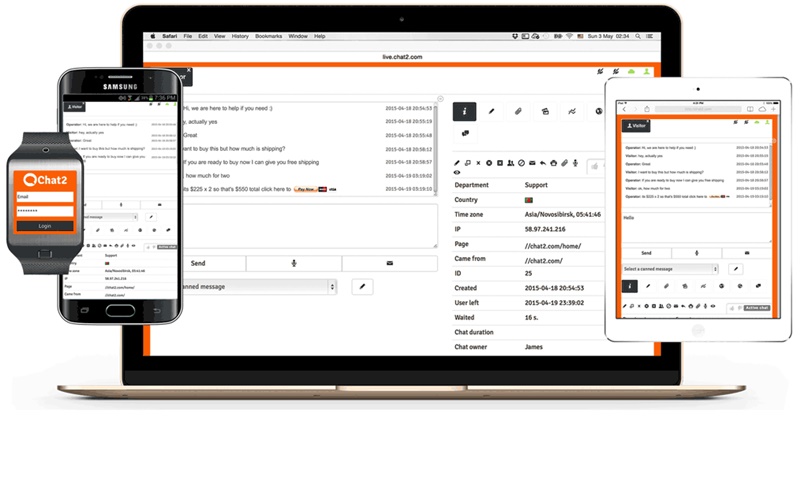 Chat2 is packed full of easy to use features designed to modernize your communication.
Visitor Info
Complete information about visitors is displayed for Chat2 operators
Quality Ratings
Customers can rate operator performance during chats
Themes
The Chat window can be themed to match your website
Look ahead
Operators can see visitors typing chat messages in real time
File Transfer
Operators can send files to website visitors directly
Can I help?
Visitors can be prompted into chats at key times like at checkout
Multi-chat
You can chat to multiple customers at once improving customer service and satisfaction levels
Eye Catchers
Use attention grabbing eye catcher graphics to encourage customer enquiries
Pay Now
Take payment from visitors all within chat, simplify the order and payment process with real personal service
Chat2 E-mail
Chat2 transcripts can be sent to an email at the end of the chat
Away Mode
Agent can switch to away mode to temporarily stop receiving incoming messages from customers
Department division
This option allows you to divide agents into departments and offers the visitor the opportunity to choose a department before starting a chat
Pointer
The "Pointer" feature helps the agent point out information a visitor is looking for on a website
Guided Browsing
Guide and assist visitors to your site directing and showing them with co-browsing controls
Lead Generator
Enable the offline forms so customers can send messages even when chat is offline
What people say about us
We are Chat2, the worlds best online chat app for websites, windows, mac, pc, android, ios ipad and iphone. We operate around the world and work with businesses to solve their communication challenges. We believe in the potential of proactive customer service to build your online reputation.
"engaging with customers that we ............previously wouldn't have"

Chris Shearer

NQ Solar
"The back end is slick and very customisable"

Landon Stroud

Realised Technologies
As an SEO expert, it's all about conversions and engagement. Using Chat2 we have not only increased our own conversions but we're keen to get all of our clients using this tool to squeeze out even more conversions from their traffic. chat2 is every SEO person's best friend.

Adam Guerin

The SEO shop
"People see Chat2 as somewhere to bring issues rather than social or google. I would rather handle the complaint direct via Chat2 than tackle via Facebook/social/review."

Adam McGilchrist

Fleet Manager
With a number of different staff running our reception the customer experience can vary. Concierge provides a consistent level of customer service and 'tone of voice'.

Di Willcocks

Brothers Leagues Cairns
Pricing
Australian Dollars
US Dollars
British Pounds
Euro
Canadian Dollars
Singaporean Dollars
Basic
Free
10 Chats a month
1 Operator
1 installation
90 days history
Encrypted Data Security
Add more operators for only $1
Business
$30
per month
Unlimited Chats
1 Operator
Unlimited installations
Unlimited days history
Encrypted Data Security
Free Site installations
Professional
$40
per month
Unlimited Chats
Includes up to 6 operators
Add more operators for only $12
Unlimited days history
Encrypted Data Security
1 Site Installation
Basic
Free
10 Chats a month
1 Operator
1 installation
90 days history
Encrypted Data Security
Add more operators for only $1
Business
$20
per month
Unlimited Chats
1 Operator
Unlimited installations
Unlimited days history
Encrypted Data Security
Free Site installations
Professional
$30
per month
Unlimited Chats
Includes up to 6 operators
Add more operators for only $10
Unlimited days history
Encrypted Data Security
1 Site Installation
Basic
Free
10 Chats a month
1 Operator
1 installation
90 days history
Encrypted Data Security
Add more operators for only £1
Business
£16
per month
Unlimited Chats
1 Operator
Unlimited installations
Unlimited days history
Encrypted Data Security
Free Site installations
Professional
£20
per month
Unlimited Chats
Includes up to 6 operators
Add more operators for only £8
Unlimited days history
Encrypted Data Security
1 Site Installation
Basic
Free
10 Chats a month
1 Operator
1 installation
90 days history
Encrypted Data Security
Add more operators for only €1
Business
€20
per month
Unlimited Chats
1 Operator
Unlimited installations
Unlimited days history
Encrypted Data Security
Free Site installations
Professional
€30
per month
Unlimited Chats
Includes up to 6 operators
Add more operators for only €10
Unlimited days history
Encrypted Data Security
1 Site Installation
Basic
Free
10 Chats a month
1 Operator
1 installation
90 days history
Encrypted Data Security
Add more operators for only $1
Business
$30
per month
Unlimited Chats
1 Operator
Unlimited installations
Unlimited days history
Encrypted Data Security
Free Site installations
Professional
$40
per month
Unlimited Chats
Includes up to 6 operators
Add more operators for only $12
Unlimited days history
Encrypted Data Security
1 Site Installation
Basic
Free
10 Chats a month
1 Operator
1 installation
90 days history
Encrypted Data Security
Add more operators for only $1
Business
$30
per month
Unlimited Chats
1 Operator
Unlimited installations
Unlimited days history
Encrypted Data Security
Free Site installations
Professional
$40
per month
Unlimited Chats
Includes up to 6 operators
Add more operators for only $12
Unlimited days history
Encrypted Data Security
1 Site Installation
Powered by WHMCompleteSolution