Chat2 is the Easiest way to Increase Client Conversion and Revenues
Chat2 allows you to chat to visitors on your website.
Chat2 is designed to increase customer satisfaction and online sales.
It helps grow your customer base and has even been shown to increase average order value.
Whether your website is big or small
your customers will love Chat2.

Chatting 2 clients makes them happy
Chat2 has the highest satisfaction levels for any customer service channel, with 73%, compared
with 59% for email and 43% for phone. Chat2 combines the fast responsive of phone
and the simplicity of email, while freeing us from pain of waiting and hold music.
Customers say they are more likely to buy after using chat and 79% of those who
bought said they did so because they got their questions answered quickly.
Operators can Chat2 multiple happy customers simultaneously!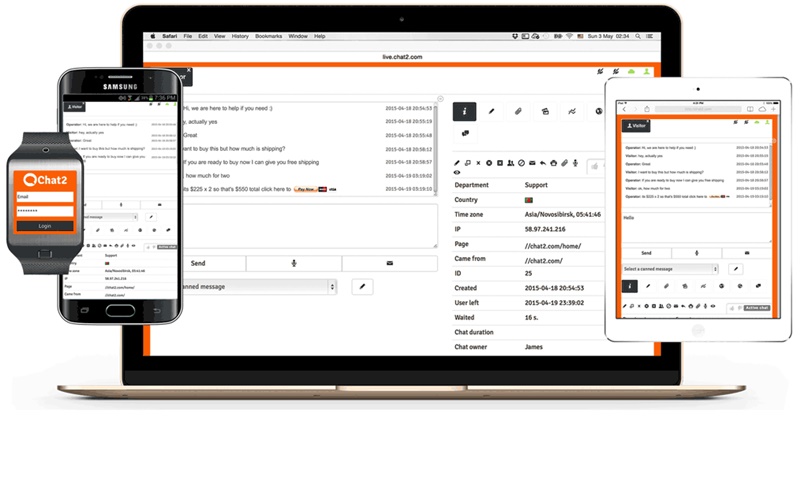 Chat2 is packed full of easy to use features designed to modernize your communication.
Visitor Info
Complete information about visitors is displayed for Chat2 operators
Quality Ratings
Customers can rate operator performance during chats
Themes
The Chat window can be themed to match your website
Look ahead
Operators can see visitors typing chat messages in real time
File Transfer
Operators can send files to website visitors directly
Can I help?
Visitors can be prompted into chats at key times like at checkout
Multi-chat
You can chat to multiple customers at once improving customer service and satisfaction levels
Eye Catchers
Use attention grabbing eye catcher graphics to encourage customer enquiries
Pay Now
Take payment from visitors all within chat, simplify the order and payment process with real personal service
Chat2 E-mail
Chat2 transcripts can be sent to an email at the end of the chat
Away Mode
Agent can switch to away mode to temporarily stop receiving incoming messages from customers
Department division
This option allows you to divide agents into departments and offers the visitor the opportunity to choose a department before starting a chat
Pointer
The "Pointer" feature helps the agent point out information a visitor is looking for on a website
Guided Browsing
Guide and assist visitors to your site directing and showing them with co-browsing controls
Lead Generator
Enable the offline forms so customers can send messages even when chat is offline