The digital world gives businesses the opportunity to connect with customers in new and innovative ways. However, it also means there are more competitors fighting for visibility. This battle for attention has made monetizing online channels increasingly challenging.
According to statistics from Internet Live Stats , There are almost 2 billion websites on the world wide web and Google averages 40,000 searches every second, which equates to 1.2 trillion searches worldwide per year.  The online space is extremely busy and it's difficult for businesses to stand out and have the edge over their competitors. 
The Covid19 pandemic has accelerated this growth online with the United States seeing a 10 year growth in online enquiries and Australia seeing a 5 year growth in online enquiries, all within a short span of 3 months in 2020 (Chat2).  In 2017, Nasdaq had forecasted that by 2040, 95% of purchases will be through eCommerce. The Pandemic has shortened this timeline, possibly by 10 years.  Hence, why its more important than ever before to start building your online presence.
The purpose of an online marketing strategy is to attract customers and drive traffic to your website, so you can control the conversation and the conversion to sale. In order to do this, you must first understand how to monetize your website. You have spent thousands of dollars poured into your website, so let's get it working for you. 
Monetizing your website involves having features that keep your online visitor interested, staying longer on your website to explore and to ultimately buy in the moment they are motivated to buy.
Features include having:
55% of people will search online for reviews and recommendations before making a purchase, with 47% visiting the company website. (KPMG) So you need to ensure the visitor experience exceeds their expectations and is memorable so they return again and again. 
Websites that convert leads into sales
You want a return on your website investment, it should be generating sales for you. According to KPMG, 30% of consumers will return to preferred websites to buy. Here are some factors to consider to help increase your conversion rate.
– Key Words – Use the "key words" visitors use when searching for your product or service online. Make it clear as to exactly what they'll receive before they make a purchase. If you offer a service, let visitors know what they can expect. If you are unsure of what these "key words" are, the Chat2 Concierge service can provide this insight to you.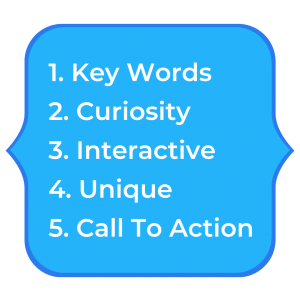 – Arouse curiosity – Your website should arouse curiosity in customers. It should make them ask questions and want to know more. Outline the benefits to them if they purchase from you.
– Interactive – Online visitors are impatient, they want answers quite quickly to their questions. They don't want to read a page of information to find the answer they are looking for. Provide for the opportunity on your website, to ask the question and obtain the answer instantly. Chat2 Concierge can provide this opportunity for your website customers easily and effectively
– What makes you unique – Every product or service has competition. If you want to stand out among the crowd, you must do something to make your company unique. This can be as simple as making your website interactive, so your visitors can easily be provided answers to their questions about your product and service. Chat2 Concierge easily answers your customers questions, but then uniquely guides your customer towards the ultimate goal – to Buy!
– Call to action – Your website should include a call to action that urges customers to purchase your products and services. Let them know how to take action and what to do next. All visitors who interact with Chat2 Concierge are guided towards taking action to buy the product or book the service. The service ensures your website is working hard to convert your visitors, achieving 80 -90 % conversion once working with a business for three months
Keep the user experience in mind
It is important to keep the user experience in mind when writing and designing your website. However, you also want to ensure your website is compelling enough to generate conversions, through content, ease of navigation and interactivity. If you fail to balance these aspects, you risk losing potential customers.
– Navigation – Visitors should be able to navigate your website easily. Poor navigation can cause visitors to leave your website without finding what they are looking for. Though Chat2 Concierge counteracts poor navigation on websites, as it acts like a concierge service, taking your customer by the hand and guiding them around your website, showing them the answers to the questions they are looking for.
– Length of content – Visitors will leave your website if your content is too lengthy. However, if your content is too short, it won't provide visitors with enough information to make a buying decision. Though an interactivity feature, like Chat2 Concierge, can prevent you from this pitfall, as it can instantly provide answers to the questions your visitors need answers to, without relying on the length of content.
– Design of the website – The design of your website is another important factor when it comes to the user experience. If your website looks unprofessional, visitors will not trust your business. Adding interactivity features like Chat2 add significant credibility to your website, as real people are within reach for each and every conversation, making your business easily accessible day or night.
– Calls to action – Calls to action that are too strong or aggressive can cause visitors to leave your website. On the other hand, if you don't urge customers to take action, they might leave without making a purchase. Chat2 Concierge establishes trust with your customers, slowly and gently if needed, or efficiently and effectively depending on the demands of the online visitor. By establishing trust through strong engagement, it becomes easy to stir your customer into action to buy!
Ask for the sale — directly
Did you know the average cart abandonment rate across all industries is 69.89%? (Baymard Institute) You don't want your customers falling into this category.
Once you get visitors to your website or any online channel for that matter, you should be asking them for the sale. How? Well that is easy, engage them in conversation and ask them if they have booked or bought as yet? If not, ask them why not? Well maybe not that straight forward, maybe more like:
"Do you have any questions about our products I can help with? Is there anything you would like to know a little more about?"
These open-ended questions assist the engagement and trust process, building the relationship with the client, building their confidence with you that they will want to buy from you, as you have been the most helpful and enhanced their customer experience.
Once they have had answers instantly provided about your products and services, then the conversation is guided towards the purchase. "For that product you are looking at, just click this link to purchase" or "to order that service, just click this link to book". It's so easy to convert!
Though you are now wondering how do you engage a website visitor into an actual conversation. Well, that is easy, initiate a well managed live chat service and get that million dollar website working for you!"
69.89%
is the cart abandonment rate across all industries.
Have you tried live chat and found it failed miserably? Did you find it difficult to manage as online visitors were too demanding for instant answers? Were you missing too many great opportunities as enquiries came in at all hours of the night? Yes we know, we hear this from many of our clients who have tried to use live chat themselves, with their own staffing and resources.
There is a strategy to implement live chat effectively so it produces results and ensures your website converts. Live chat has to be set up effectively, with the correct timings, messaging and responses. This is what we have refined over the last seven years of working in this space for a variety of different industries from tourism and Hospitality, Real Estate, Health and Wellness, Food, Manufacturing, Finance, Retail, Trades and membership associations.
Today, a new client remarked that the Chat2 Concierge service has doubled the number of enquiries in just two months, compared to their previous live chat software. That is the exact result we are striving to achieve, we see this type of result regularly, as the Chat2 team has refined the setup and techniques to ensure a successful live chat service.
Live Chat is an extremely powerful website conversion tool if set up effectively. It adds extra credibility, trust and works in partnership with your website to ensure enquiries are converted into sales. Using live chat, you are keeping your website, visitors, on your website for longer, enhancing the search engine optimisation (SEO) benefit.
"Chat2 Concierge service has doubled the number of enquiries in just two months, compared to our previous live chat."
The digital world has made it easier than ever to reach customers and potential clients. However, it's important to remember that these individuals are looking for your business online. Getting their attention on your website is crucial to drive sales. A well-managed and implemented live chat service, with a few different techniques, can boost the number of enquiries and sales you receive online. Live Chat encourages curiosity, allows for interaction, makes your business unique enabling it to stand out in a noisy online crowd and can send a strong call to action. By following these expert tips, you can optimize your online presence and drive more sales and enquiries.