Artificial Intelligence: The Secret to Staff Shortages.
Artificial Intelligence has been rapidly developing and is already a part of many things you do on a daily basis. It is now playing a large role in solving one of the biggest issues businesses are currently facing operating in a pandemic environment: staffing shortages. Businesses are struggling with keeping their businesses operational worldwide due to low unemployment rates, staff either falling sick to Covid, or they are required to isolate from being a close contact.
This is affecting many industries worldwide from tourism and hospitality in Far North Australia to Fruit Sellers in Miami, U.S. Many of these businesses are having to close parts of their operations while they ride out the Pandemic until they can find the staff to undertake key operational roles.
In some areas of these businesses AI has a role to play to assist with staff shortages. Over the years there has been a notable increase in the need for people who can manage these technologies and implement it into businesses effectively, especially in these challenging times. Businesses are striving to retain some semblance of operation to keep themselves open while it riding the Pandemic wave.
AI can assist with staffing shortages either in the short or long term. While some feel that this will mean mass unemployment, others see it as an opportunity to become more efficient with their current employees. With the introduction of AI removing the more mundane time consuming tasks from employee responsibilities, this enables you to empower your employees with a strong knowledge of the business, to focus on developing the business further into areas of greater profitability.
What happens when many jobs become automated? How will we balance the progress of technology with the loss of human jobs? The future is uncertain, but one thing is certain: Artificial Intelligence is here to stay. Here's what's going on with AI right now and how it may affect your business.
What is artificial intelligence?
Artificial intelligence is a term that has been coined to describe machines completing tasks that were previously associated with human intelligence. It includes the ability of computers to process information and come up with solutions, as well as the ability of computers to learn from experience. 
Many industries are transitioning towards incorporating artificial intelligence into their daily operations with AI functions assisting humans to do current jobs faster and more effectively. Examples including manufacturing robots, automated financial investing, proactive healthcare and virtual travel booking agents.
The AI Revolution
Artificial Intelligence has been rapidly developing and will soon be a part of many things we do on a daily basis. It is already showing that is has the power to solve one of our biggest issues: staffing shortages. Even though we are still a fair way off from when a machine can learn from itself, we are in a transitioning stage where humans are assisting machines in the learning process.
For example, the customer service experience is now being heavily supported through AI. Particularly during the Pandemic many businesses have had to rely on placing more emphasis on the online customer service experience through their websites and social media. This has led to more communication occurring online between customers and businesses. This is a challenging area of managing the communication channels between online customers and business staff.
Most communication has traditionally been undertaken via email and phone calls. Both these channels are time consuming and slow to getting answers to customers as they are heavily reliant on staffing resources (difficult in these times) and availability of staff when the customer is online. Also these channels can only attend to one customer at a time.
40% of enquiries from customers are now received outside of normal business operating hours. In the online world customers basically expect businesses to be available 24/7 and to respond as if they were always open, which is highly challenging for businesses. So managing the online customer service space can be quite difficult.
A strong emphasis was placed on chatbots about 3-4 years ago and this technology was trialled by many businesses to assist in being available 24/7 and providing service to multiple customers at the same time.
 Though it was soon discovered that customers rejected this technology, they found that their questions were not answered efficiently and they wasted much time going around in circles trying to obtain answers. This left the online customer frustrated and even turned them away from the brands they were trying to deal with.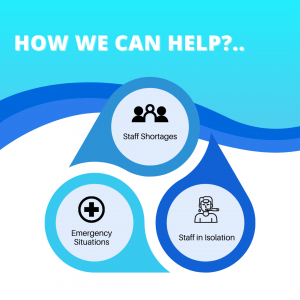 This phase of online ai customer service was damaging to the reputation of chatbots. So is there a role for AI in enhancing the online customer experience ? How can businesses deliver great customer service in times when they are struggling to find staff during a Pandemic?
The AI-powered workforce
One of the most exciting aspects of AI is that it can assist us in what we are doing now to be more effective, not necessarily taking over completely what we are doing. We are in a type of a transitioning stage where we can use AI to improve what we are doing now by doing it differently and more efficiently. 
For example, back to our online customer service challenge. There is now chat software in place with AI features that can assist the operators to respond to customers faster, with accurate answers and to chat with several customers at the same time across many different industries. If the software is set up correctly, it can suggest to the operators responses from interpreting what the customer is asking. 
The software allows the operator to be faster in responding to customers, more effective by providing correct answers in the shortest amount of time, responding to multiple customers efficiently at the same time, therefore promoting faster and easier conversions. The customer is happy as they are getting the answers they are looking for quickly and hence are more likely to book or buy from the brand with a higher level of online customer service.
Setting up systems like this now empower our customer service teams and enables for easier transition to full automation once the technology has reached its full potential. The business will have a much better understanding of their online customer, as they will discover first hand the information their customers are looking for and the most common questions asked. This data allows for an easier transition to full automation in coming years.
In this scenario, AI is assisting humans to manage and maintain a high level of customer service more effectively and efficiently online. But what about the other side? As more industries shift their business models to incorporate AI, there's a notable increase in the need for personnel who can manage these technologies. With low unemployment rates, a pandemic and an ageing population, this can be difficult for businesses to even consider implementing online customer service systems.
A better future with AI in Customer Service
The team at Chat2 are working with businesses worldwide to assist in relieving the pressure of staff shortages, providing online customer service for many businesses to ensure customers receive a warm customer service experience online. Our team work with our unique Chat2 software, with its built-in AI features that assist the team heavily to answer questions across a fortitude of industries fast and knowledgeably. Our team at Chat2 are filling this gap for businesses who feel that its more important than ever before to be more available to customers online 24/7 and to provide a memorable customer service experience.
As the world is changing quickly with new challenges from technology and pandemics, Chat2 is assisting many businesses to manage their online customer service experience effectively utilising the skills and experience of our team who have been working with AI for the last 7 years. If our online team are bringing in the customers, this frees up our business managers to focus on what they do best and that is delivering their final product and service to ensure happy customers.
Conclusion
Although artificial intelligence seems like a futuristic concept to some, we have already begun incorporating it into everyday life. Artificial Intelligence has the potential to solve many of the world's problems–including staffing shortages. There are many jobs that require problem-solving, object recognition, and pattern identification that AI is already capable of doing. Machines are getting smarter every day, and it's unlikely they'll stop developing.
If you're in a field where your job can be done by an AI program, it's only a matter of time before humans will be working more closely with machines to improve the efficiency and effectiveness of tasks. But machines can't do everything on their own. When industries shift to AI-based technology, there is an increase in the need for people who can manage these technologies.
As businesses and organizations continue to grow and become more data-driven, the need for automation becomes more and more apparent. And that's where artificial intelligence comes in. AI helps us to automate human tasks and decisions with the use of machine learning and deep learning algorithms. And not only does it help reduce staffing shortages, but it also helps us to think more creatively and improve our online customer experience.
Get started on the personalisation of your website and social media channels with our all-inclusive ADAPT Package.
Take advantage of the savings with 50% OFF + FREE Set-up. Our all-inclusive ADAPT 6-month Package is designed to boost sales and elevate your #online customer service. #GetStarted in 2022!
MORE Enquiries – EASY Conversion – SAVE Time – MORE Sales
💥 50% OFF for 6-months
💥 includes 200 chats per month
💥 FREE Set-up including Knowledge Base (save $199)
💬 Chat2 Software 💬 Concierge Service 24/7
💬 Website and Facebook integration
💬 Dedicated Account Manager
💬 ROI Reporting & Data
To learn more visit our ADAPT Page