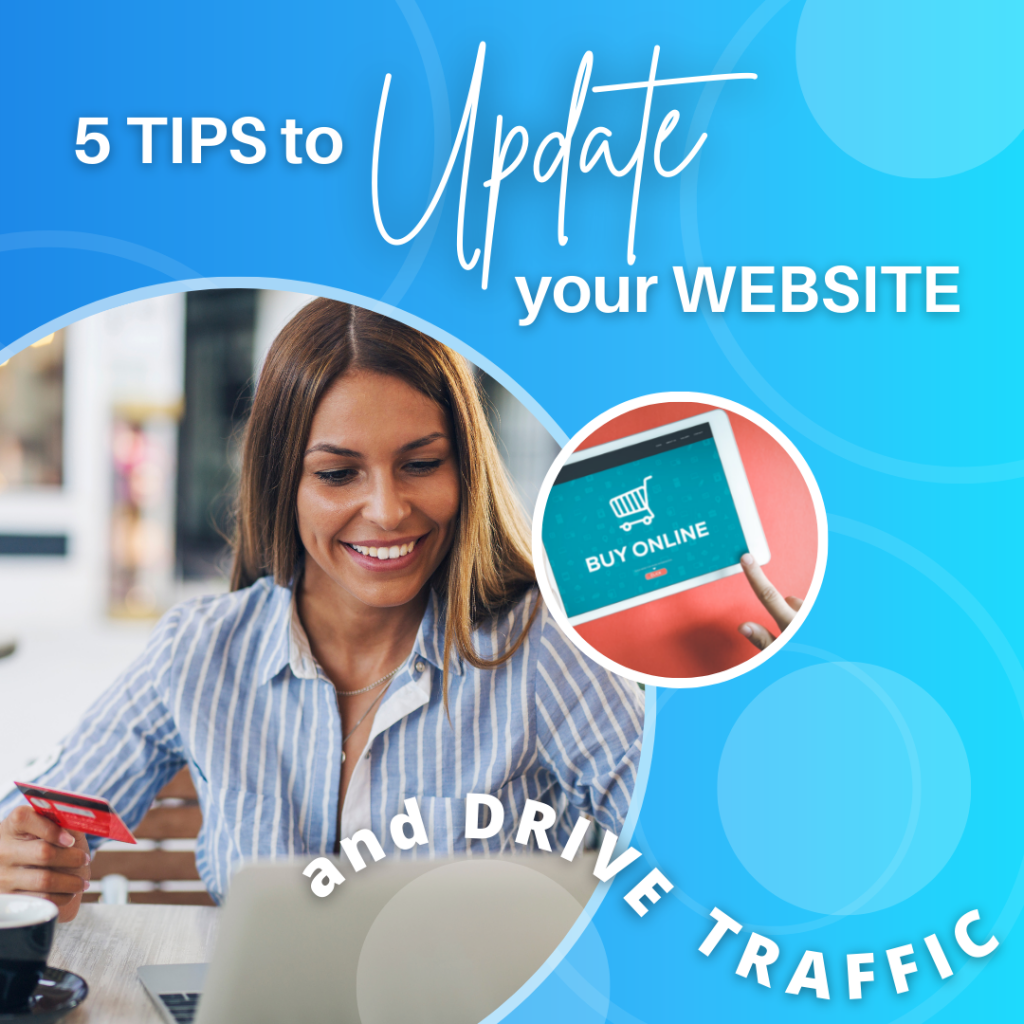 Did you know that over 90% of users check the online business presence before connecting with a business?  This means that content and design of your company's website plays an important role in attracting potential customers. A user-friendly website also works as a 24/7 advertisement for your business, which is why it is imperative that you keep it updated. You can easily freshen up your site by investing in new visuals, personalizing the experience, SEO optimization, stronger calls to action and better organization of content. If you want to drive more traffic to your website, we will explore five tips that will help when updating your website and to drive traffic.
At Chat2 Concierge, we are often talking to businesses about the best time to start a live chat service, before or after a website facelift?  You might think the answer is obvious and to wait.  Though you may not realize that the service we provide at Chat2 Concierge will significantly enhance the final website design before the website is actually updated.  How?  In several ways and not only do we assist in providing guidance and strategy to assist with the update, we also ensure your customer messaging stays relevant and up to date.
We do the hard work for you. To ensure the effectiveness of a live chat service, it is essential to review the current website in great detail. The purpose of the audit is to extract the website content to form initial responses for chat conversations.  During this audit the following useful information for a website update is generally identified:
contradictory information across the website;
out of date information;
hidden content or content that is difficult to locate;
broken links;
missing information that is regularly sought for by customers; or
complexity in the sales process/checkout that could be simplified.
Even if some of the website information is out of date, you will be able to advise the team of this and easily correct it in the results from the review.  By having an experienced team review your website content and layout, any navigation issues or inaccurate content is easily identified and relayed to you for consideration in your website update. A complete new accurate content database is created, that your website developers can draw upon in the creation of the new website.
2. Make Your New Website A Personal Experience
Gone are the days where your website sits there to just display information for your customers to read, you can now have websites that are more far more personal, interactive and responsive. You can do this with bots, or knowledge base prompts, though from our current experience with the general public, the preference is to have a REAL person greeting your website visitor when they arrive on your website.  This is quite challenging for many businesses, which is why our affordable Chat2 Concierge service is so popular. Our experienced team are online 24/7, guiding your visitor to the information they are seeking. Yes a real person and in real time!
This is the icing on the cake for customer service.  So it doesn't matter how terrible your current website is to navigate or that the information is not accurate, a website with a 24/7 concierge service can provide a memorable, personal experience for your customers ensuring information provided is accurate, on brand and on message at all times.  All this while you are going through the process of updating your website, which can potentially take several months. You could be increasing your conversion rate, leads and revenue now. We are doing this all the time for new clients awaiting a website update.
When you have the Chat2concierge service on your old, dilapidated website, your customer won't even notice. If they are being assisted fast, effectively, getting the answers they are looking for, while receiving one on one attention, it will leave a memorable impression that will either convert them on the spot and give you the edge on your competition. Even if they don't initially get the final answer, our live chat Concierge service gives you the opportunity to convert the lead to a sale. A lead you may have previously lost due to a poor performing website. So there is no better time than now, to start the Chat2concierge, live chat service.
If your site isn't personalized now, then you are already missing out on a lot of traffic and sales that could be coming your way. Don't wait for the website update, start interacting with your customers now through your current website as the information we gather on your behalf, can be used to enhance your SEO (Search Engine Optimisation) on your new website.
Once the 24/7 service is live, the knowledge base responses will be further refined and you will become more aware of the common questions your customers are likely to ask and the words, phrases they use to ask these questions.  Key words your customers use in engaging with your website will be added into the knowledge base. The system learns during the first few months how your customers search and what key words they use in asking questions about your products and services.  You will then be able to integrate these phrases and keywords into your website content and enhance your Search Engine Optimisation (SEO) strategy. 
If you have the most commonly used phrases and keywords used in your website content, then it is more likely that you will attract more of your ideal customer to your website. You can also include this key content into your website meta description.
Your meta description tells search engines like Google and Bing, what to display in the search results following your website title. 
For an effective meta description, ensure:
it has active, exciting language and is compelling for the visitor to click;
is between 60 and 160 words and makes sense;
the location and some of the keywords you want to rank for are included; and
Utilising the live chat service, prior to updating your website will provide you with a great insight into what your online visitors are asking about, identifying the most common questions and what is top of mind for your customers.  You then have the edge in creating and publishing unique, current, high quality, content your visitors are searching for.  High quality content gets the attention of search engines.
Using the words, language and phrases on your website that your online visitors use attracts the ideal customer! Chat2concierge assists in identifying these words in real time, as you have an open direct communication channel with your online visitors.  We help discover the current words and phrases and what is top of mind for your customers in the Now!
4. Invest in Strong Calls to Action
Calls to action are prompts that invite your website visitor to take the next step. What could be more compelling than a message that appears unexpectedly,  inviting your visitor to start a conversation with a real customer service person and engage with your business. You are initiating an early start to the customer relationship, giving you the edge over your competition, who are just a click away.
People are so busy these days that if they find a way to receive instant answers, rather than having to spend their time searching or reading pages on a website, they will always take the easy path.  Once you have your visitor engaged and they are receiving answers to their enquiries, you are well on your way to get the conversion.  The experience is helpful, memorable and guides them ultimately towards buying.
Even if your industry is not the kind that enables instant conversion online, you will be provided with qualified leads that you will be able to action and convert immediately.
A strong call to action like our Chat2 Concierge service not only enhances the effectiveness of your own team with being provided qualified leads and saving them time from "tyre kickers", it also increases the revenue through a higher conversion rate online. All these advantages despite needing a website update can be obtained now. The chat service is drawing upon its own knowledge base of responses as approved by you in the early stages of set up, which are accurate, relevant and enticing visitors to convert.
5. Make It Easy To Navigate
When it comes to the design of your website, you not only have to consider how it looks but how it functions as well. The design and navigation of your site must be easy to use and intuitive. In other words, you must invest in a user-friendly website.
If your website is easy to navigate it will decrease the bounce rate. A high bounce rate is when visitors only stay on your site for a few seconds and then leave. If a user finds your site difficult to use, they will quickly click away to your competitor's site. Whereas, an easy to use, engaging website will encourage people to stay on your site. This is because users will not have to put in a lot of effort in order to navigate through the content on your site.
A website that talks to you is a great way to guide your online visitors around.  Our Chat2 Concierge service basically takes your visitor by the hand and shares information they are looking for and guides them to where they need to buy or book.  It's that easy! Websites with our Chat2 Concierge service are the easiest to navigate, even if your website is still waiting for its update. We have all the current information available within the chat service that is maintained.  So new responses are added and the information is kept up to date as a part of the Chat2concierge service.
A website update is a great way to improve your website's performance. However, you can still provide a high level customer experience while the update is in progress.  Just adding some of the latest technology to your current website will allow you to create a more user-friendly experience immediately. Adding the highly affordable Chat2 Concierge service prior to a website update will give you the inside knowledge to ensure your new website upgrade is on point, accurate, provides the most sought after information up front, while still providing a world class customer experience to your customers.
The initial audit will highlight the missing information, you will create a more personalized customer experience on your current website, your customers will receive up to date information, you will receive insight to enhance your SEO strategy, your call to action will be strong and your website will be easier to navigate.  All this,  while your website update is in progress.  It's a win / win for everyone!  The best time to start Chat2 Concierge service is NOW!
As the AI wars continue to intensify, the progress being made in this arena is
Read More »
The recent suggestion of pausing AI development for six months has stirred up quite a
Read More »
© 2020 All Rights Reserved